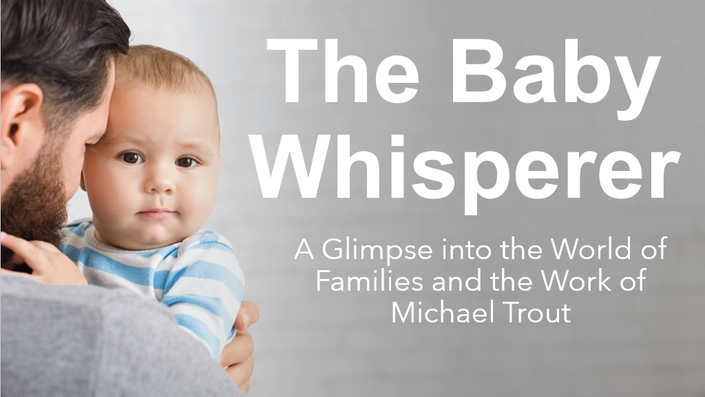 6 Sessions, 1.5 hours each
Parents and Clinicians Invited
With a Special Welcome to Foster and Adoption Families and their Caregivers
Starts June 30, 2020, Tuesdays
2 pm Eastern time
1 pm Central time
Noon Mountain time
11 am Pacific time
Internationally see http://www.worldtimebuddy.com
Please join us for a glimpse into the world of infant mental health with world reknown expert Michael Trout. A well-known speaker, therapist, teacher, researcher and mentor, Mr. Trout will tell stories from his 41 years of practice sitting with families and babies.
In these 6 session, Michael Trout will tell the stories of 6 families that he has worked with. Each story illustrates essential principles to working with families with babies, be they foster families, parents who have adopted, or families who have suffered. Employing principles from working with attachment, trauma and infant mental health, Mr. Trout will demonstrate the possibility for healing and resilience.
The Six Sessions include:
Prologue: How I Got To Sit with Babies and Families for Four Decades. Hear Michael Trout's amazing story.
The Invitation. Meet a 15-year-old mom who asked for help in a roundabout way. This session is about what it means to discern an invitation, even when it is sometimes hidden beneath layers of defense, rage, sorrow and resistance.

Waiting for the Shoe to Drop.

Meet a middle-aged mother with no babies at home who claims she has no idea why she seeks Mr. Tout's help, only to discover that she is pregnant, and how her pregnancy and parenthood awakens her early trauma. Meet also parents who, overwhelmed with grief, seek help for the one-year old adopted son only realize how healing can happen for all three of them at once. We learn that patience, wondering, following and more in the therapeutic relationship really facilitates change and feels like waiting for the shoe to drop.



On Transference. Transference is often thought of as mysterious, even exotic, and certainly much-too-psychoanalytic for the everyday world. This chapter offers a case in which transference couldn't be more evident. We see how essential it is that we notice it, not run from it, and not pathologize it.

We meet families whose transference play a role in healing that Mr. Trout identifies as Ghosts, and how he, and we, can trust it.

The Anniversary Thing.

This chapter moves us forward in our understanding of two key dynamics in infant mental health work: the nature of memory in early life, and the part played by the infant's creation of working models of the self, and self-with-other. We meet families that have experienced extensive trauma and abuse, and how these memories emerge at anniversaries. These memories don't come in words. Mr. Trout works with narrative medicine, presence, attunement and other skills to help families become more whole.

Abusing Babies.

This session tackles one of the most morally, legally and clinically ticklish issues in infant mental health: how to help when the baby is being hit. Through study of the case of Kathryn and her two little ones—and the fan belt she used to beat them—we discover that sometimes it is wise to wonder if the abuse is more than just awful mistreatment of a helpless child: it is a canary in the mine.

The Little Girl Who Remembered Fire. This session offers another glimpse into the operations of memory in young children of loss and trauma—a subject we must study over and over, since we are deprived of absolutes about how it all works. We meet Cynthia, a foster child whose behavior were so bewildering and hard until Mr. Trout was able to discover the story and helped heal the trauma. Believing that remembering can lead to healing, the foster family decided they could keep Cynthia. What a day. One more war a child of trauma and loss got through, together. One more child who feels seen.
Desired Outcomes for Attending:
Parents would feel supported relative to challenges they may have faced, or may be facing at the moment.
Parents would have a chance to consider the origins of their parenting beliefs and feelings they may have about one or more of their children.
Parents would have a chance to look beyond the categories into which their child[ren] have been placed--including diagnoses appended to them--and wonder about the adaptive purpose of their child's[ren's] behavior.
Clinicians would have a chance to muse on their practices, including excessive use of didactic methods and diagnostic categories, and a paucity of wondering, following and holding.
Clinicians would have a chance to sit with parents for whom they have no clinical responsibility and hear things from their points of view.
Both parents and clinicians would have a chance to consider--with their defenses at bay--the connections between early experience and developmental outcome.
Your Instructor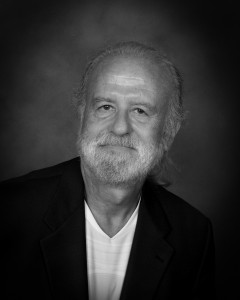 Michael Trout graduated from Alma College (B.A., cum laude, honors in Philosophy) and Central Michigan University (M.A., Psychology), and did his specialized training in infant psychiatry at the Child Development Project, University of Michigan Department of Psychiatry, under Prof. Selma Fraiberg.
In the mental health field since 1968 and in private practice since 1979, Mr. Trout has, since 1986 directed The Infant-Parent Institute, which engaged in research, clinical practice and clinical training related to problems of attachment.
He was the founding president of both the Michigan and the International Associations for Infant Mental Health; was on the charter Editorial Board of the Infant Mental Health Journal; served as regional vice-president for the United States for the World Association for Infant Mental Health; and served on the board of directors (and as editor of the newsletter) for APPPAH — the Association for Pre- & Perinatal Psychology and Health. In 1984 he won the Selma Fraiberg Award for " . . . significant contributions to the needs of infants and their families."
In 2010, he was honored with a Lifetime Achievement Award, for his decades of work with foster and adopted children and their families, at the ATTACh conference in San Francisco.
In addition to publishing a number of book chapters and journal articles, Mr. Trout has produced 16 clinical training videos that are used by universities and clinics around the world, including the six-hour video training series, The Awakening and Growth of the Human: Studies in Infant Mental Health. He has also written and produced five videos focusing on the unique perspective of babies on divorce, adoption, loss, domestic violence and parental incarceration.
He is the co-author (with foster/adoptive mother Lori Thomas) of The Jonathon Letters; the author of Baby Verses: The Narrative Poetry of Infants and Toddlers; the producer of two meditation CD's, including See Me As a Person: Meditations for Sustaining Relationship-Based Care, and The Hope-Filled Parent: Meditations for Parents of Children Who Have Been Harmed; and co-author (with Mary Koloroutis) of the 2012 textbook for healthcare providers, See Me As a Person. His final book, This Hallowed Ground: Four Decades in Infant Mental Health was released in 2019 in audiobook format, and donated to the Michigan Association for Infant Mental Health. It is available through the Association at www.miaimh.org.
For 46 years--41 of them in the infant mental health specialty--the most important part of Mr. Trout's work was in the hours he spent with individuals and families. He retired from clinical practice on May 30, 2014, allowing him to turn more of his attention to teaching, writing, and looking into what happened to some of the babies and families he served, many years ago.
The private phone number at Michael's office is 217-377-4060. His email address is [email protected] The address of Michael's office is 2808 East Concord Road, Urbana, IL 61802. You are welcome to contact him at [email protected]
Course Curriculum
Welcome and A Word from Michael Trout
Available in days
days after you enroll
Frequently Asked Questions
When does the course start and finish?
This course is 6 weeks starting June 30, 2020, ending August 4, 2020. The recordings will be up for awhile, and will be taken down when Michael offers the course again.
How long do I have access to the course?
You will have access to the recordings until Michael Trout offers the course again.
What if I am unhappy with the course?
Please let me know if I can help you access the recordings and more if you are unhappy. Refunds are available until the third week of the course.