Four 2 hour practice sessions
Support for skills practice with somatic trauma resolution for trained practitioners

July 13, 20, 27 And August 4, 2021
7:30 - 9:30 pm Eastern time
Find your time with World Time Buddy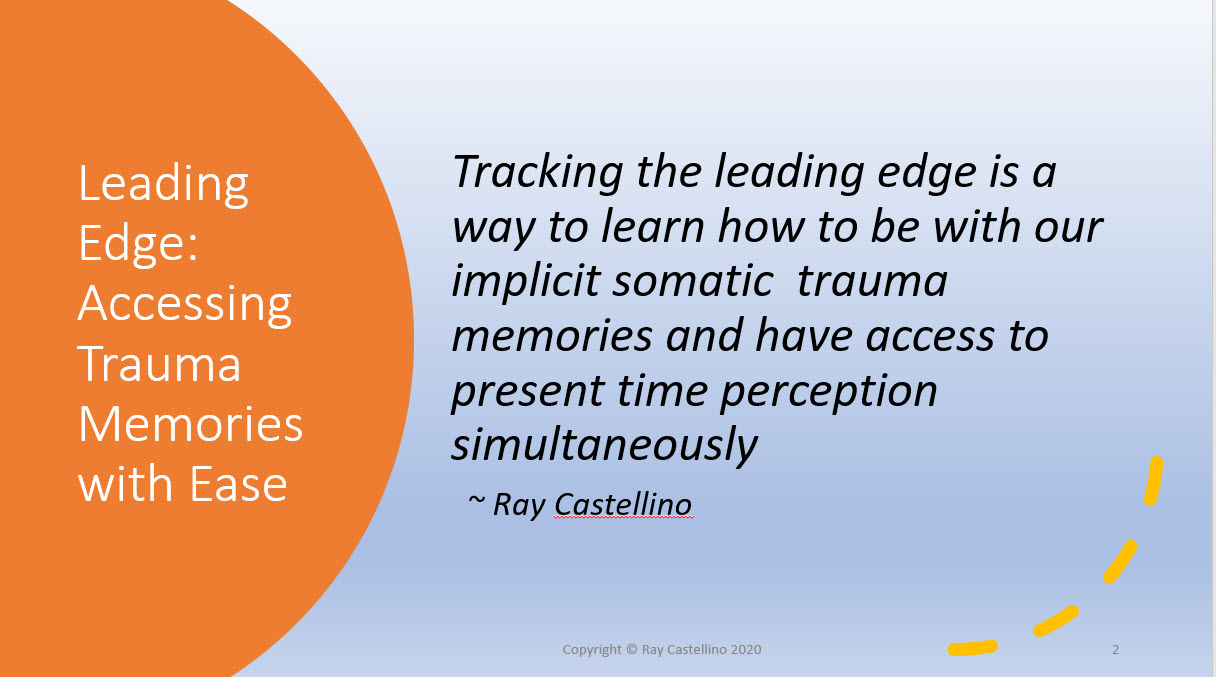 The Leading Edge is a term coined by Ray Castellino in his work training practitioners to understand prenatal and perinatal somatic therapy; it is one of the most important and basic skills a practitioner can have. What is a Leading Edge? It is primary therapeutic window for healing and repatterning imprints that are overwhelming, and running unconsciously in our lives. While working in our Leading Edge, we can bridge and integrate the energy that has been frozen or encapsulated in our bodies with the skills of presence, conscious awareness and the bodily, felt sense.
In this course, we breakout into 1 hour sessions to practice working with our blueprints and imprints. We recognize the Leading Edge, and use skills and practice to change the pattern! The Leading Edge is a place of dual awareness, of being both in the present and having a memory. Once this territory is recognized, we employ the tools of titration (small doses in a slow manner) and pendulation (shifting states), to encounter earliest imprints and then slowly integrate them into the lived experience of the client.
This course is for practitioners who have taken The Leading Edge Somatic Skills, Integrated Prenatal and Perinatal Dynamics, trainings of Ray Castellino, including The Teachings of Ray Castellino. It is meant for practitioners to practice working with Leading Edge Skills:
Resourcing
Blueprint
Acknowledging difficulty
Identifying Imprint
Broadening to Stabilize
Deepening to Integrate
Titrating in small doable pieces
Pendulating back and forth to shift the state
Choreography of our Sessions:
We meet and settle for the first half hour, including a review of the Leading Edge skills, and any questions. Sometimes, there will be a demonstrations.
Participants will be broken out into dyads to practice for 1 hour (30 min each for practice and debrief)
The last half hour is for harvesting from your practices, sharing what is learned, asking questions.
There are four meetings per session.
Maximum number of participants per 4 week session: 30.
Your Instructor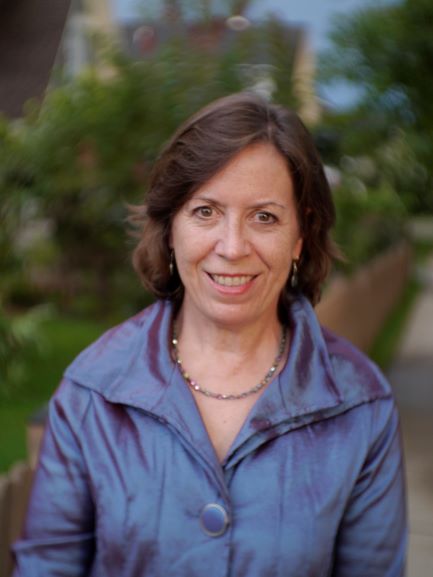 Kate White is an award-winning craniosacral and massage therapist, prenatal and early childhood educator. She is trained in somatic therapies, prenatal and perinatal health, lactation, brain development, infant mental health, and has specialized in mother-baby dyad care using somatic prevention and trauma healing approaches for nearly 20 years. She is a mother of two children, holds a BA and MA in Communication, is a Registered Craniosacral Therapist in the Biodynamic Craniosacral method and a Somatic Experiencing® Practitioner. Her work combines somatic therapy with brain development to help give families with babies and small children the best possible start. She is Founder and former Director of Education for the Association for Prenatal and Perinatal Psychology and Health from 2013 – 2019 where she created the world renown Prenatal and Perinatal Educator Certificate program, a large online educational program for professionals. She teaches classes online and in person around the world and offers a training called Integrated Prenatal and Perinatal Dynamics. She has a private practice in Charlottesville, VA called Belvedere Integrated Healing Arts (belvederearts.com) and offers her own seminars through the Center for Prenatal and Perinatal Programs, ppncenter.com
Course Curriculum
Welcome and Links
Available in days
days after you enroll
Course Contents
Available in days
days after you enroll
Frequently Asked Questions
When does the course start and finish?
This is a live course for practicing skills. Our current course: April 13, 20, 27, May 4 2021 Next course is in July 13, 2021.
How long do I have access to the course?
You will have 1 month to review the recordings.
What is your refund policy?
We will give full refunds if you cancel before the practice session. No refunds afterwards.