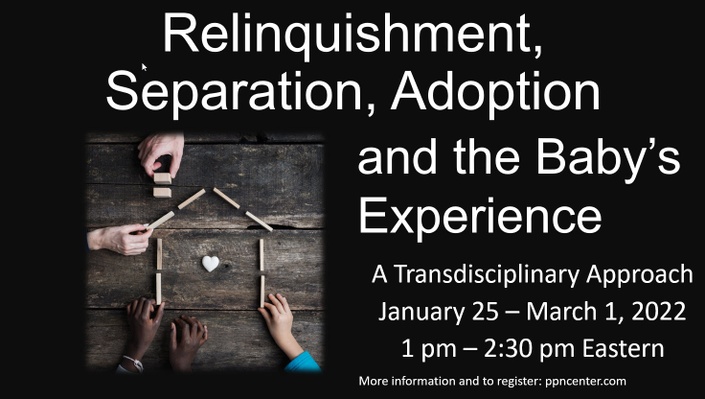 A Unique Transdisciplinary Series Bringing More Awareness to the Baby's Experience
January 25, February 1, 8, 15, 22, and March 1
1:00 pm - 2:30 pm Eastern time
5 Speakers and a Panel Talk
There are about 1.5 million adopted children in the United States, which is 2% of the population, or one out of 50 children. Relinquishment or separation is the wound for many of these children. The process of adoption affects adoptees, birth parents, and adoptive parents and other birth and family members throughout life. The relinquishment, separation and adoption experience may contribute to feelings of loss and grief, questions about self-identity, or a lack of information about their medical background. Many people in the adoption triangle (adoptee, birth parent, adoption parent) seek healing and the understanding of their unique circumstances and therapists may or may not have perspectives that will bring them relief. In addition, many children spend time in foster care before they are adopted. The foster system is an additional layer in the experience of those involved in adoption. This 6 week course offers lectures by experts in prenatal and perinatal somatic psychology, attachment, infant mental health and more who have spent decades understanding the impact of relinquishment, separation and adoption on the baby and parents. It will also include perspectives from therapists who specialize in adoption and foster care and therapists who treat adults with the early adoption experience.
We have taken special care to bring speakers to this series who have experience with deeply understanding the baby's experience. Two of our practitioners have been trained by Ray Castellino, pioneer in prenatal and perinatal somatics and expert in understanding the baby's perspective. His trainings are profound and illuminate how sensitive and perceptive babies are and how they can tell their stories. Our other presenters have been carefully picked. We want to embrace the holistic approach that includes the baby's perspective and work together to improve clinical outcomes and overall human health.
List of Speakers and Dates:
January 25, 2022: Karen Doyle Buckwalter, MSW, LCSW: Using Theraplay® to Strengthen Attachment and Connection with Adoptive Parents and Their Children
February 1, 2022: Michael Trout, MA and Rebecca Molitor, LCPC, Prenatal Bonding (BA) Facilitator: Supporting Connection Between First Mothers and Their Unborns as an Antidote to Dissociation
February 8, 2022: Alison Greene-Barton: Conscious Adoption: A Personal Story
February 15, 2022: Kristin Sipley: A Journey of an Adoptee: A Glimpse into the Baby's Experience
February 22, 2022: Becky Zal-Sanchez, LCSW: Raised by Committee: Restoring a Child's Identity and Security After Time Spent in Foster or Kinship Care
March 1, 2022: Panel Talk
Your Instructor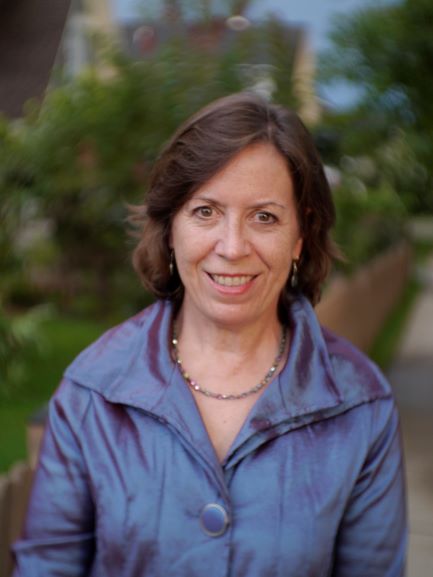 Kate White is an award-winning educator and an advanced bodyworker. She is trained in somatic therapies, prenatal and perinatal health, lactation, brain development, infant mental health, and has specialized in mother-baby dyad care using somatic prevention and trauma healing approaches for nearly 20 years. She is a mother of two children, holds a BA and MA in Communication, is a Registered Craniosacral Therapist in the Biodynamic Craniosacral method and a Somatic Experiencing® Practitioner. Her work combines somatic therapy with brain development to help give families with babies and small children the best possible start. She is Founder and former Director of Education for the Association for Prenatal and Perinatal Psychology and Health from 2013 – 2019 where she created the world renown Prenatal and Perinatal Educator Certificate program, a large online educational program for professionals. She teaches classes online and in person, and offers a training called Integrated Prenatal and Perinatal Dynamics. She has a private practice in Charlottesville, VA called Belvedere Integrated Healing Arts (belvederearts.com) and offers her own seminars through the Center for Prenatal and Perinatal Programs, ppncenter.com
Frequently Asked Questions
When does the course start and finish?
This is a live online course that starts January 25 and runs once a week. Our speakers all offer 60-90 minute sessions on Adoption topics on Tuesdays at 1 pm Eastern time. The recordings will be available forever, and you will have access as long as you wish.
How long do I have access to the course?
How does lifetime access sound? After enrolling, you have unlimited access to this course for as long as you like - across any and all devices you own.
What if I am unhappy with the course?
You will receive a fulll refund if you cancel before the course begins. No refunds after the start.