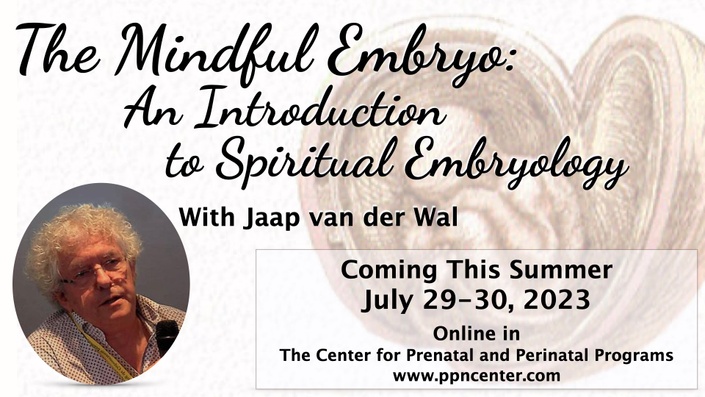 The Mindful Embryo
July 29 & 30, 2023
9am - 5pm EST
"Is it possible for we cells, before and after especially neural tissue arise, to reproduce in later phases of the life cycle transforms, or variations of our first experiences? May our prenatal experiential patterns function as templates for some of our patterns woven into the complex knit of postnatal design?"

Ronald Laing (1927-1989) in Facts of life.
For more than 30 years Jaap van der Wal, physician and anatomical embryologist, has been giving his courses The Embryo in Us. In these courses he tries to make it understandable and experienceable that we as an embryo and as a fetus are indeed a being of body and mind, of body and mind, and certainly do not live as a not-yet-full being. Indeed, the "embryo in us" is not a past but actuality. So what do we actually do when we are embryo-fetus? The main conclusion from this phenomenological approach to our life in the womb is that our consciousness or our mind or our soul does not emerge from the body (e.g, is a not a product of the brain) but rather the other way around and that, as the philosopher Rumi puts it, we ourselves created and still create our bodies: "The body developed out of us and not the other way around". We are a mind having a body and yes, it is the body "that keeps the score".

This means something like that we, as prenatally growing and developing embryo/fetus, are therefore not a brainless "not-yet-being" but do exhibit behavior and have consciousness. This behavior can then be understood and comprehended by sensing and experiencing, from a phenomenological grounding, the forms with which the embryo shapes its body as sign language. The body as per-form-ance or Gestaltung. And that those biological form behaviors with which we bring our bodies into being are indeed expressions of our mind, of our spirit. The prenatal development as a gesture of incarnation in which the human mind embodies itself step by step in order to gradually become conscious of that body and to be an acting, feeling and thinking-knowing being.
This time Jaap wants to discuss the highlights of this path of incarnation in a two-day summary webinar and explore with Kate the possible impact these phases and events have for our psychological existence, on our mind, soul spirit (yes, three times and in this order). Think of the extremely important processes and still points like conception, implantation, the embodiment of the heart as an organ of consciousness, the manifestation of a first inner being in the third week, finding a center to come to oneself and finally also the birth out of oneself (no, not "out of one's mother"). Being born and dying as mirroring gestures of development. Conception as act of incarnation and example of how an interaction between mind and body is possible and conceivable.
The intention this time in this webinar is to focus more on the possible significance of embryonic betimes for later soul life. The late John Chitty has constantly pointed out how important it is to understand the gestures by which we develop our body as gestures of our soul and psyche. Relive with Jaap the embryonic development of man, of yourself and recognize the leaps and layers of incarnation and how mind and body, mind and body interact as polarity. If possible, Kate will be able to provide interpretation of certain critical moments of development in the womb from her experience as a trauma therapist and prenatal psychologist.
The themes I will explore are:
Where do we come from? What has the embryo to teach us our being mind AND body, spirit AND matter? It is about two: The Embodied Mind by Verny and Lipton and the Spirit into Form by Cheriona Menzam. Not just a brain, it is "the body that keeps the score."
Conception: getting or making? Do children come from us or through? Can we, should we detach and free ourselves from reproductive biology of male and female and devote ourselves to the meeting of the feminine and the masculine. Polarity-thinking and thereby transcending the opposition of the sexes.
Nesting. What is the relationship between mother and child and what can go wrong?
What is the gestalt of pregnancy and parenthood?
But also birth, of course. And perhaps also the theme of our placenta.
Your Instructor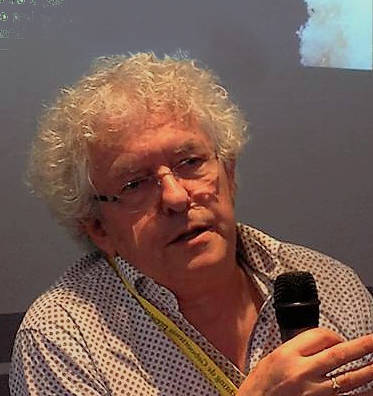 Jaap van der Wal PhD MD is a physician and until his retirement in 2012 he worked as associate professor of Anatomy and Embryology at the University of Maastricht, the Netherlands.
After his medical training in 1973, he specialized in Functional Anatomy of the Postural and Musculoskeletal System with (later) emphasis on the architecture of connective tissue and fascia and its role in proprioception. Gradually, he developed as a teacher in the philosophy of science and in medical anthropology. "My passion, however, was and still is human embryology. The human body is a process that develops and functions over time. The embryo moves and behaves in forms. It is in this area that I came across Goethe's phenomenological approach. I apply the method of dynamic morphology to understand what we actually do as human beings when we are embryos. I respectfully find in the embryo tentative answers to questions about the SIGNIFICANC' of human existence."
After his retirement in 2012, he devotes himself entirely to Dynamension, a worldwide project to teach Embryosophy. Check out his website: www.embryo.nl. He now teaches his "Embryosophy" mainly in Europe and the US at trainings for Craniosacral therapy, osteopathy, polarities therapy but also the courses are open to prenatal psychologists and trauma therapists and S(omatic)E(experience) practitioners and so on. Inspired by Rudolf Steiner's anthroposophy, the courses, seminars and webinars are open to anyone who is in search of spirit AND body in man with an open mind: building bridges between science and spirituality.
Also check out the website: www.embryo.nl (trilingual)
Course Curriculum
Welcome
Available in days
days after you enroll
Course Schedule
Available in days
days after you enroll
Frequently Asked Questions
When does the course start and finish?
The course will take place over two-days, July 29 and 30, 2023. Recordings will be added to the course as they are completed and accessible to all students.
How long do I have access to the course?
You will have 6 months to review the videos and other course content.
Will I be able to download the videos?
You will not be permitted to download the videos, but they are viewable online when you are logged into the course. You will be able to download other material associated with the course
Are refunds available after purchase?
We're sorry, we are unable to offer refunds for this course after purchase.