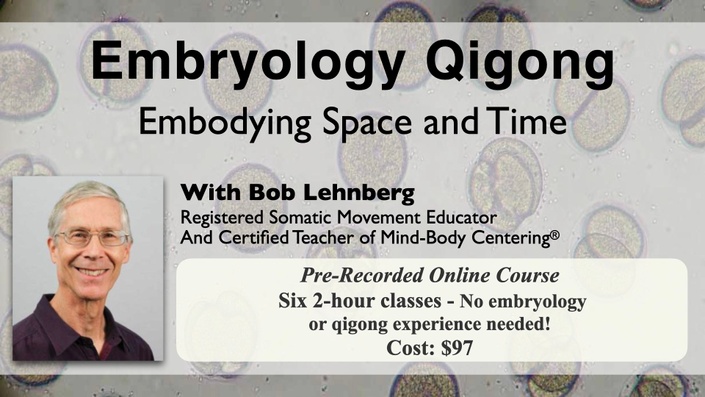 Qigong of Embryology: Embodying Space and Time
Recorded Qigong Classes with Bob Lehnberg
Qigong (chi gung) is a way of bringing forth our natural vitality. Qi (chi) is the energy that moves through all life. Gung is a cultivation, practice and developing relationship with our vitality. Just as we may cultivate a garden or practice a musical instrument, so we may practice qigong to nurture the life force within ourselves.
Embryology is the study of the first 8 weeks of our intrauterine life. Today, our cells hold our experience and embodiment of each moment of our embryological development and how we chose to embody space. Space existed before we came to be. We informed space and space informed us. Though time, particular embryological structures have faded away. We still hold the memory of these early phases of our existence and can re-member the range of foundational vibrational and cellular states.
This class covers some basic principles and forms of qigong and how we may be in-formed through accessing embryological foundations. Opening the body and experiencing simplicity allows us to resolve to the present. This integrated class provides a frame and context for some essential aspects of embryology applied to qigong. No prerequisite of embryology or qigong is needed to attend this web class.
This class is appropriate for:
The novice with no experience of qigong or embryology
The experienced practitioner who wants to deepen and expand their practice
Those interested in applying embryological principles with practical experience
Class topics include:
Wuji; the emptiness of pre-incarnation.
Incarnation in stillness, incarnation of movement; interrelationship of egg-mind and sperm-mind.
Accessing the planes of movement for investing 3-dimensionality; the first three cleavage planes.
Somatic yielding, tonifying space, and tonifying self; the developing and hatching morula.
Landing and rooting on the earth; contact, cellular migration, and implantation.
The yin and yang of the front body and back body; balancing the endoderm and ectoderm
Utilizing spatial support for stillness and movement; embracing the yolk sac and the amniotic cavity.
Inner Sea of Qi and Outer Sea of Qi: yolk sac invagination within the amniotic cavity environment
Simultaneously embracing and transforming yin and yang; cellular coherence and change imprinted by the autonomic fluid rhythm via the neurenteric canal
The cloacal membrane and the oropharyngeal membrane establishing our central channel; the polarities of hui yin (the perineum of pelvic floor) and bai hui (crown of the head).
The dantian; our physical center informed by the invagination of the yolk sac.
This highly experiential class will benefit beginners and experienced folks alike. We incorporate embryological moments and transitions based on the embodiment principles of Body-Mind Centering®. Participants will learn theory and receive guidance for simple and safe movement forms.
At the end of the 6-session class, you will learn and be able to perform:
An effective opening and closing qigong sequence
Principles and practices integrating embryological support for qigong
Other forms and exercises highlighting different aspects involved in qigong
To participate, you will need:
A quiet area large enough where you can stand and freely swing your arms
Simple comfortable clothing allowing unrestricted movement
A chair or stool for sitting with your thighs parallel to the floor
Each Class is Two Hours Long
Dates and Topics:
Session 1: The Emptiness of Wuji, Egg Presence, and Sperm Activity
Session 2: Early Cell Cleavage, Morula, and Hatching
Session 3: Free Swimming Blastocyst, Contact, Migration, and Implantation
Session 4: Bilaminar Body and the Meso-Body
Session 5: Primitive Streak, Notochord, and the Autonomic Fluid Rhythm
Session 6: Simultaneous Condensing and Expanding Yield
Testimonials:
"Bob's specialty is his depth of knowledge, embodiment and extreme generosity and kindness in his teaching. I really enjoy practicing the movements and getting his valuable feedback."
Mariko T.; BMC Program Director, Choreographer, Dance Consultant, ISMETA RSME / RSMT
"Bob gifts his students/clients with years of practice and the ability to tie in various other disciplines such as yoga, BMC, anatomy, physiology, theory... humor... He is transparent whilst being an amazing practitioner. He goes the extra mile to ensure the learning experience is rich and full, by providing written material, videos, references, to name just a few! Thank you so very much. I feel it is a privilege to study with Bob."
Janet K.; RSME/ RSMT, CMA
"Bob has the capacity to take us into the body in a titrated and invitational way that elicits curiosity and openness to the experience. There are no right or wrong ways… lots of space to have an embodied experience and just be curious. Plus, a vast knowledge of the physiology and anatomy that support going into the movement. Lastly, of course the delivery of complex information that is broken down in a way that makes it digestible for those who have no background in this art form or practice... I love to play and feel my own life force - so this is such a lovely class for me to drop into that - to feel the areas of stickiness, to explore how to shift those pieces, to discover new ways to connect to the life force... I am enjoying your playfulness as well. It is both serious and light at the same time. I feel an ease learning this even with very seasoned people who have a BMC background. I love the group space. Connection with others. Being together."

Paula S.; somatic-based psychotherapist and Somatic Experiencing™ practitioner, LCSW, CEDS, SEP
Your Instructor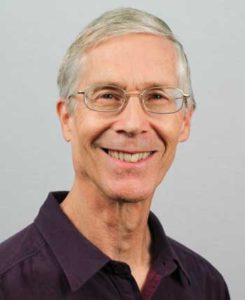 In 1990, Bob Lehnberg received his certification as Practitioner of Body-Mind Centering® (BMCsm) and in 2002 Teacher of Body-Mind Centering. Since then Bob has received teacher certifications for BMC Yoga, Integral Yoga and Supreme Science of Qigong. He has been teaching in schools of massage therapy and programs of somatic training since 1990 and has had the good fortune to teach BMC and somatic practices throughout the US and internationally in Europe, Canada, China, and Taiwan.
Bob is a co-founder of Kinesthetic Learning Center in Durham, NC and has been on faculty teaching and coordinating the BMC Somatic Movement Educator (SME) and Practitioner certification programs since 2007. He is coordinator of SME courses for Esprit en Mouvement in Montreal, Canada and is Co-director of the SME program in Taitung, Taiwan.
Course Curriculum
Welcome and Link
Available in days
days after you enroll
Frequently Asked Questions
When does the course start and finish?
The course starts now and never ends! It is a completely self-paced online course - you decide when you start and when you finish.
How long do I have access to the course?
How does lifetime access sound? After enrolling, you have unlimited access to this course for as long as you like - across any and all devices you own.